Coro Allegro:
Building bridges through extraordinary music.

Coro Allegro is proud to be Boston's award-winning LGBTQ+ and allied classical chorus.
Coro Allegro is dedicated to providing access to choral music to broad audiences, to performing and commissioning works by composers from under represented groups (BIPOC, LGBTQ+, women and gender minorities), and to serving as a model LGBTQ+ organization through artistic excellence and visibility. Through our performances, collaborations, and community partnerships, Coro Allegro strengthens community, builds bridges between disparate communities, and enriches lives in the Greater Boston area and beyond.
Under the leadership of Artistic Director David Hodgkins, Coro Allegro is known for critically acclaimed programming, performances, and recordings of works by diverse classical and contemporary composers.
Coro Allegro was awarded the 2021 Choral Arts New England Board Grant for exemplifying a commitment to diversity, equity, and inclusion through our Amplifying Black Voices series. In 2019, Coro Allegro was named a winner of the prestigious Chorus America/ASCAP Award for Adventurous Programming for a season of premieres and commissions by diverse American composers. Previous Coro Allegro won the Chorus America/ASCAP Alice Parker Award in 2012 for its world premiere performance of Kareem Roustom's The Son of Man. Since our founding in 1991, Coro Allegro has performed 28 world premieres, including 18 commissions, by an inclusive range of composers, and earned praise from Gramophone magazine for recordings that introduced "deeply affecting pieces and meaningful additions to the choral repertoire."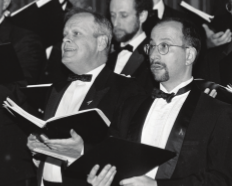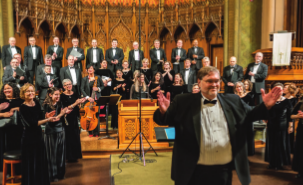 In a typical year, Coro Allegro offers a three-concert subscription series in Greater Boston venues, such as Harvard University's Sanders Theatre and the Church of the Covenant in Boston's Back Bay. Our Amplifying Black Voices series celebrates the work of Black composers, conductors, artists, and activists with whom we have been proud to collaborate in advocating for Black lives, equal justice, and arts equity. Coro Allegro reaches national and international audiences through digital programming, radio broadcasts and festival performances, including the LGBTQ+ GALA Choruses Festivals, the Chorus America convention, and the Eastern Division of the American Choral Directors Asssociation (ACDA).
Coro Allegro has released four critically acclaimed commercial recordings: In Paradisum and Awakenings on the Navona Records label, as well as In the Clearing and somewhere i have never traveled. Coro Allegro's forthcoming album, We Are Here, will feature new works by American composers on Uganda and Syria, that bear witness to the importance of human rights around the world.
In 2008, Coro Allegro established the Daniel Pinkham Award in memory of the acclaimed and beloved Boston composer and conductor. The award is given annually in recognition of outstanding contributions to classical music and to the LGBTQ+ community.
Coro Allegro is proud to have collaborated with performing arts organizations such as the Boston Landmarks Orchestra, the Back Bay Ringers, The Boston Cecilia, the Boston City Singers, the Boston Gay Men's Chorus, Boston Musica Viva, the Celebrity Series of Boston, Chorus Pro Musica, City on a Hill Charter School Chorus, the Handel & Haydn Society, The Heritage Chorale of New Haven, La Donna Musicale, Pro Arte Chamber Orchestra, Rumbarroco, The Terezin Music Foundation, Toronto Children's Chorus, and the United Parish Chancel Choir.
Coro Allegro has a proud tradition of raising their voices to benefit local, national, and international nonprofit organizations that serve populations in need and advocate for principles of diversity, inclusion, and equity. Coro is committed to offering a welcoming, affirming and supportive environment for performers and audiences alike of all sexual orientations, gender identities and expressions, races, religions, and ethnicities.
Coro Allegro is a member of ArtsBoston, Chorus America, GALA Choruses, and the Greater Boston Choral Consortium. Coro Allegro is supported in parts by grants from the Massachusetts Cultural Council, the Equality Fund of the Boston Foundation, the Boston Cultural Council, Boston Arts and Culture, and Choral Arts New England.