Coro Allegro wins 2019 Chorus America/ASCAP Award for Adventurous Programming!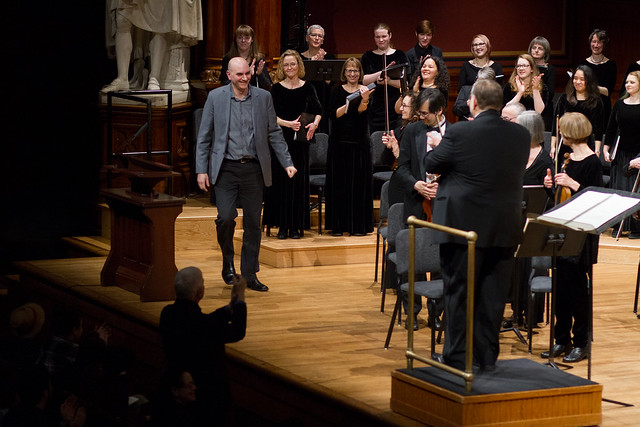 We are proud and thrilled to announce that Coro Allegro has been named a recipient of the 2019 Chorus America/ASCAP Award for Adventurous Programming!
A prestigious honor, the award recognizes Coro Allegro's commitment to fostering and promoting new music, and our 2017-2018 season, which celebrated David Hodgkins' 25th anniversary as Artistic Director with four premieres and commissions by American composers.
Congratulations to David, composers Eric Banks, Shawn Kirchner, Kareem Roustom, and Patricia Van Ness, and our fellow award winners, C4: The Choral Composer/Conductor Collective and the Brooklyn Youth Chorus, Dianne Berkun Menaker, founder and artistic director.
We are grateful to Chorus America/ASCAP for this honor and for all they do to advocate for the choral arts. We thank our our wonderful orchestra and featured performers for the extraordinary gifts of artistry they contributed to the performances. It was an honor to raise our voices with you to bear witness to the importance of international human rights and our shared yearnings for peace.

THANK YOU to the members of the Coro Family who commissioned the premieres and all who support the diversity and impact of Coro Allegro's programing with your donations, attendance, and applause!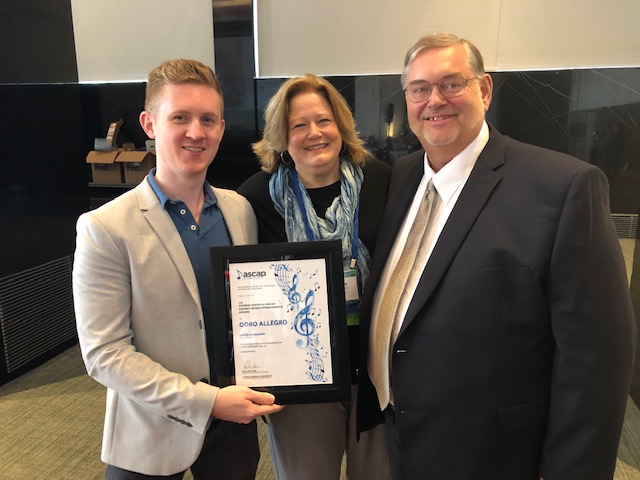 Executive Direcctor Kevin Neel, Catherine Peterson, Executive Director of ArtsBoston, Immediate Past Chair of the Chorus America Board and Pinkham Award Winner, and Artistic Director David Hodgkins
Your support at any level makes a difference!
Read more about our award winning season:
Coro Allegro is proud to be Boston's LGBTQ+ and allied classical chorus. Known for acclaimed programming, powerful commissions, and recordings of works by diverse classical and contemporary composers, Coro Allegro has performed 22 world premieres in its 27-year history, 13 of which were commissioned by or for Coro Allegro.
In 2017-2018, Coro Allegro built upon a tradition praised by Gramophone magazine of introducing "meaningful additions to the choral repertoire." In celebration of David Hodgkins' 25th anniversary as Artistic Director, our ambitious season introduced Boston audiences to two world premieres, an East Coast premiere, and three commissions by contemporary American composers.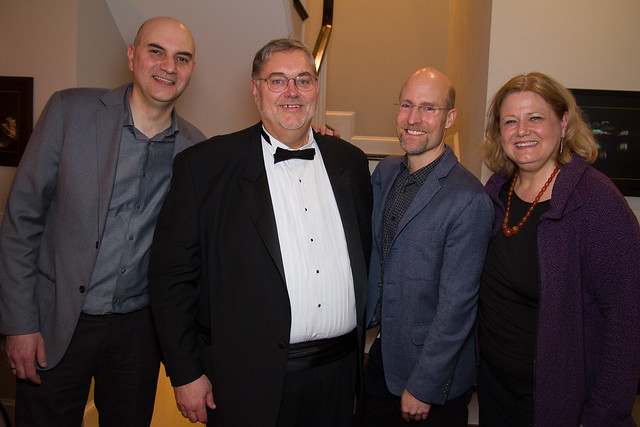 Composer ;Kareem Roustom, David Hodgkins, composer Shawn Kirchner, and Pinkham Award winner Catherine Peterson.
In March, we presented the world premiere of Rage Against the Tyrant(s) by Syrian American composer Kareem Roustom. Melding western and Syrian musical styles, Roustom sets street chants of the "Arab Spring" uprisings in Syria, Tunisia, Egypt, and Palestine, contemporary Arab and Arab American poetry, and ancient Syriac liturgical texts. Roustom's unflinching work called the audience to bear witness to the human toll inflicted by domestic and foreign tyranny and the conflicts that have driven so many refugees from their homelands. As an affective contrast, we then introduced East Coast audiences to Shawn Kirchner's soaring Songs of Ascent in the world premiere of a newly expanded version of the original, which was premiered by the Los Angeles Master Chorale under the direction of Grant Gershon in 2015. Kirchner's rich, sonorous settings of pilgrimage psalms exemplified music's potential to lift us beyond our religious divisions to find peace.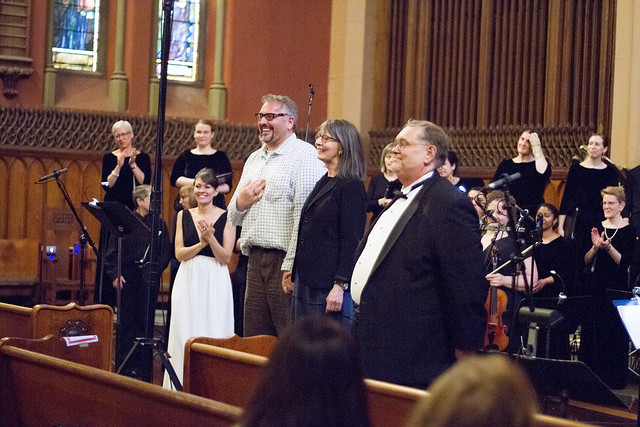 Composers Eric Banks and Patricia Van Ness with Coro Allegro and David Hodgkins
In May, Coro Allegro reprised Aluta continua: The passion of David Kato Kisule by Eric Banks. Commissioned by a member of the chorus in 2016, Banks' work honors the life and legacy of the slain Ugandan LGBTI activist. It challenged our audience to confront the brutal consequences of homophobic campaigns led by evangelical leaders from our own state. The program closed with the world premiere of Psalms of Luminous Rescue, by Patricia Van Ness, also commissioned by Coro Allegro. This work with its radiant lines and harmonies represented a radical departure for Van Ness, composed as it was as a protest against our country's current climate of intolerance against the LGBTQ+ community.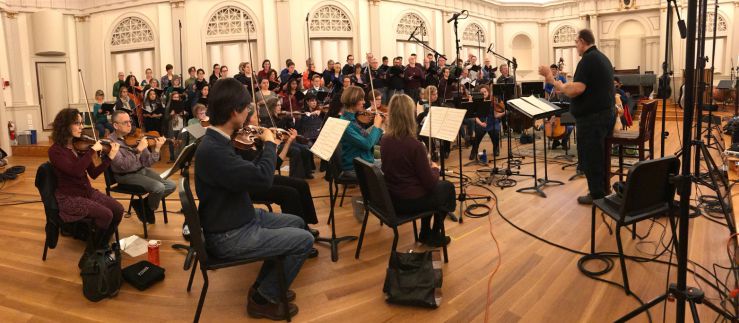 As a culmination to this season of courageous programming, Coro Allegro was excited to record We Are Here at Boston's Futura Productions, enabling us to bring significant contemporary works to a wider audience. The album features Kareem Roustom's Rage Against the Tyrant(s) and Eric Banks' Aluta continua: The passion of David Kato Kisule, two works by American composers bearing witness to the importance of international human rights. Look for the upcoming release of We Are Here!