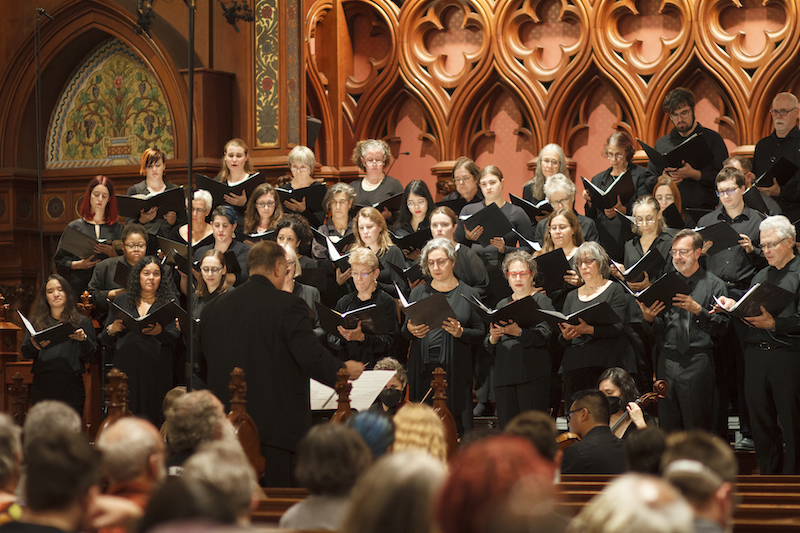 We are holding special auditions for our February 2024 and July 2024 performances. QTBIPOC singers are especially welcome to apply. Basses and tenors are particularly welcome. Click here to learn more about the audition process and to schedule an audition.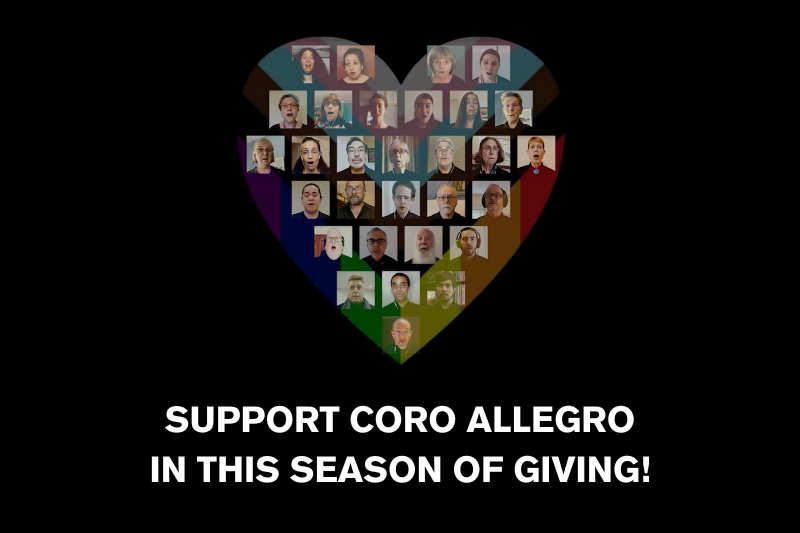 #GIVINGTUESDAY inspires us all to take action together to improve our communities, give back to the charities and causes we believe in, and help create a better world. GivingTuesday demonstrates how everyone's acts of generosity count, and means even more when we give together. In this time of uncertainly, there's a fundamental truth that gives us hope - that together we can do extraordinary things!
Coro Allegro makes a difference by building bridges between disparate communities. Everyone can have an impact on #GivingTuesday! Make a difference: donate now.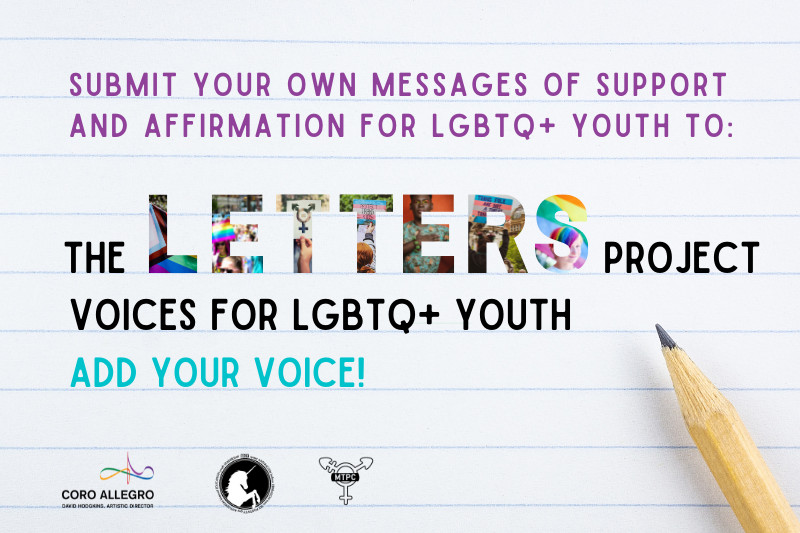 Add an open message of support for LGBTQ+ youth to this powerful letter writing campaign. At a time when rights of transgender and other LGBTQ+ youth are under attack and LGBTQ+ forms of expression are being silenced, Coro Allegro, the Boston Alliance of GLBTQ+ Youth (BAGLY) and other community partners are gathering and sharing letters from the LGBTQ+ community and allies to support queer youth and their families, with the power of our collective voices. Learn about the moving letters to transgender kids and survivors of conversion therapy that inspired us and add your voice!
Coro Allegro is proud to be Boston's LGBTQ+ and allied classical chorus. Under the baton of Artistic Director David Hodgkins, Coro Allegro is known for award-winning programming, powerful commissions, and critically acclaimed performances and recordings of works by diverse classical and contemporary composers. Since our founding in 1990, Coro has introduced audiences to 28 world premieres, including 18 works commissioned by and for Coro Allegro, all from composers from under-represented or silenced groups—LGBTQ+, BIPOC, MENA, women and gender minorities. We offer a welcoming, affirming and supportive environment for performers and audiences alike of all sexualities, gender identities and expressions, races, ethnicities, and religions.
Experience that pride and community for yourself. Join the Coro Family of friends, allies, and members of the LGBTQ+ community as a singer, supporter, or volunteer.
*****
Coro Allegro is pleased to be participating in the Mass Cultural Council's Card to Culture program by extending discounted $5 tickets (limit 4 per card) to EBT, WIC, and ConnectorCare cardholders. Tickets may be purchased showing your card at the door or in advance, using a discount code. To learn the advance discount code, please contact us at ticketmanager@coroallegro.org or 617-236-4011, or visit the Coro Allegro listing in the the full list of participating organizations offering EBT, WIC, and ConnectorCare discounts. We hope to see you there!