JOIN US FOR FANFARES, SUNDAY 3/12
Coro Allegro marks the centennial of acclaimed and beloved Boston LGBTQ+ composer Daniel Pinkham with fanfares and works for double choir, brass quartet and organ by the late composer. Join us in the beautiful sanctuary of the Church of the Covenant, as we also celebrate Ralph Vaughan Williams' 150th anniversary with his lovely Mass in G minor, another double choir work. We then introduce Boston audiences to a 12-voice motet by composer Shawn Crouch, based on the poems by American Iraq War veteran Brian Turner which are juxtaposed with works by 12th Century Persian poet Hāfez, selected, reinterpreted and translated by contemporary Iranian poet, Sholeh Wolpé. Tickets start at $25, with significant discounts for seniors and students. Learn more.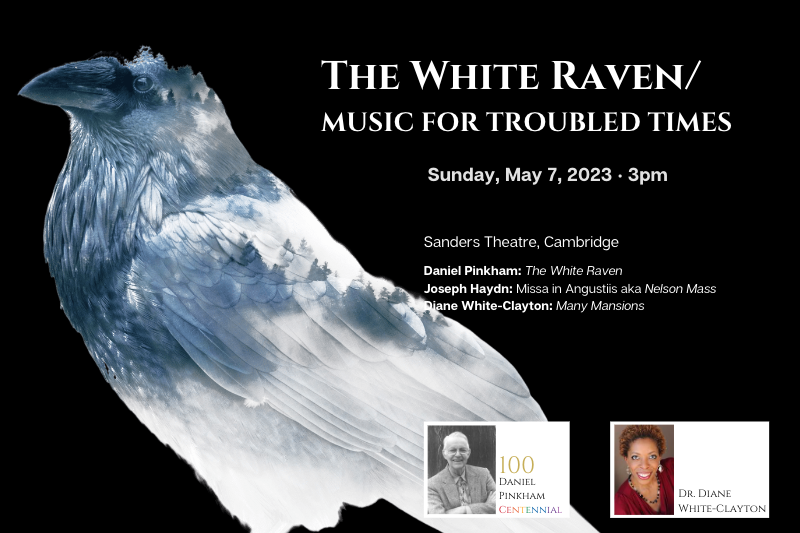 Coro Allegro marks 30+ years with Artistic Director David Hodgkins with a work written by Pinkham for Coro Allegro in celebration of the extraordinary, and the diversity of creation. Pinkham's setting of 18th century English neurodivergent poet Christopher Smart is paired with Hadyn's mass for troubled times, plus a spiritual arrangement by Dr. White-Clayton, reimagined with Black lives and Covid losses in mind, which Coro Allegro was honored to premiere with the Boston Landmarks Orchestra this summer.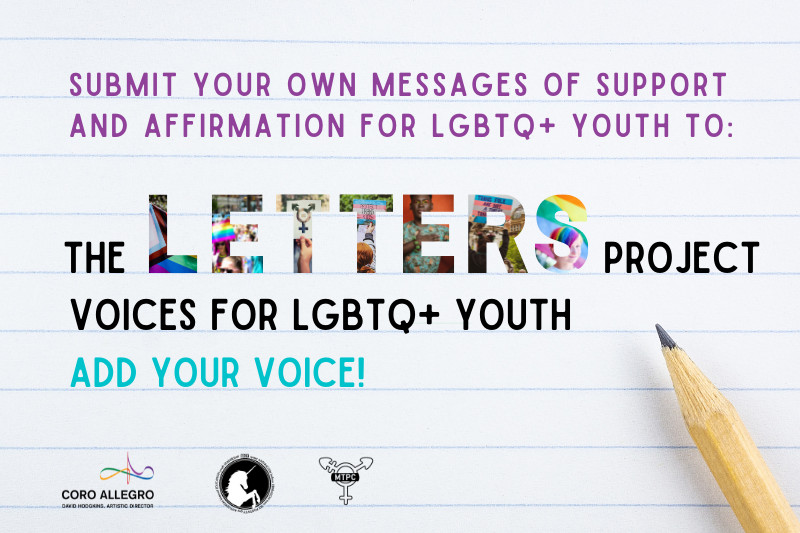 Add an open message of support for LGBTQ+ youth to this powerful letter writing campaign. At a time when rights of transgender and other LGBTQ+ youth are being eroded and LGBTQ+ topics are being silenced, Coro Allegro, the Boston Alliance of GLBTQ+ Youth (BAGLY) and other community partners are gathering and sharing letters from the LGBTQ+ community and allies to support queer youth and their families, with the power of our collective voices. Learn about the moving letters to transgender kids and survivors of conversion therapy that inspired us and add your voice!
Coro Allegro is proud to be Boston's LGBTQ+ and allied classical chorus. Under the baton of Artistic Director David Hodgkins, Coro Allegro is known for award-winning programming, powerful commissions, and critically acclaimed performances and recordings of works by diverse classical and contemporary composers. Since our founding in 1990, Coro has introduced audiences to 26 world premieres, including 15 works commissioned by and for Coro Allegro, all from composers from under-represented groups—LGBTQ+, BIPOC, MENA, women and gender minorities. We offer a welcoming, affirming and supportive environment for performers and audiences alike of all sexualities, gender identities and expressions, races, ethnicities, and religions.
Experience that pride and community for yourself. Join the Coro Family of friends, allies, and members of the LGBTQ+ community as a singer, supporter, or volunteer.