A program note from Artistic Director David Hodgkins for Coro Allegro's upcoming concert in honor of Robert Stern, Sanford Sylvan, and Donald Wilkinson, Shofar: In Memoriam, Sunday, March 8 at 3pm at Sanders Theatre.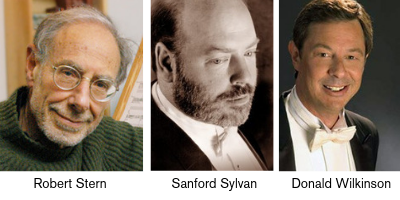 Dear Friends,
A little over a year ago, the Boston area musical community lost three extraordinary musicians in rapid succession: composer Robert Stern, baritone Sanford Sylvan, and baritone Donald Wilkinson. For Coro Allegro, it lost three close members and friends of the LGBTQ+ community and frequent collaborators who, through multiple performances, recordings and commissions, became inextricably woven into the fabric of what has become Coro Allegro.
While there is sadness in the fact that we have run out of silk, we celebrate the vibrant colors of the musical tapestry that all three devotedly helped to create, and take it upon ourselves to ensure that the richness of that rainbow of colors does not fade into obscurity but remains vibrant. Our upcoming program fondly remembers this beloved intertwining of lives and talents, and celebrates with gratitude those accomplishments.
My connection with Sandy and Don spanned thirty years as friends and colleagues. With Bob, that connection lasted for over forty years, starting when I was a student at UMass/Amherst, where he was my professor and mentor. That relationship blossomed into one of close friend, colleague, collaborator, and confidant. While each one of them had distinct careers and personalities, they all had in common a warm, gentle demeanor, a generosity of spirit, a kind, loving soul, and consummate artistry.
Their connections with Coro were separate in some ways. Don sang numerous times with Coro as a bass soloist in mostly oratorio works by Haydn and Mozart. Sandy, Coro Allegro's first Daniel Pinkham Award winner, often sang as a part of a quartet as well, but also had two works commissioned by Coro where the solo sections were specifically written for him: Infinite Fraternity by Charles Fussell, and Requiem by Patricia Van Ness.
Bob's history with Coro, and with me, was different. In Coro's infancy, we performed a set of madrigals that Bob had written early on in his career. Not too long after that performance Bob approached me about this idea he had for an oratorio, and wondered if Coro and I would be interested in performing the work. We then embarked on a decade-long evolutionary journey that would become the final version of Shofar. That journey included orchestrating the work, fundraising, (it was by far the most ambitious project Coro had undertaken), performing, revising, and performing the expanded version again, ultimately recording the work professionally. with Navona Records. (Don can be heard on that recording, Awakenings, singing the role of Moses.)
The paths of these wonderful musicians came together in a rather unusual way through Coro. At the premiere of the revised version of Shofar, I also programmed the Vaughan Williams Five Mystical Songs with Sandy as the soloist, (he had sung it much earlier with Coro but with organ accompaniment), and the Cantique de Jean Racine by Gabriel Fauré. The day of the performance, Sandy fell ill with the flu. Don, who was already singing in Shofar, stepped in at the last minute and gave a stunning rendition of the Vaughan Williams. It was a magical performance of both works, and one that will be seared in my memory forever.
Our upcoming performance, Shofar: In Memoriam, is in many ways a recreation of that program with the significant difference of replacing the Fauré with a more symbolically appropriate work by Brahms.
"Auch das Shöne muss Sterben!" "Even beauty must die!" So states the opening line of Friedrich von Schiller's poem Nänie (Elegy) that Johannes Brahms set to music thirteen years after he wrote his beloved German Requiem. At its core, Nänie is a lament for the passing of the ones we love, especially those who we feel have passed too soon. It is told through the metaphor of three Greek myths that convey the passing of Eurydice, Adonis, and Achilles, and like the Requiem, it addresses the inevitability of death, no matter how powerful we may think we are to resist it. Like the Requiem however, Brahms's breathtakingly beautiful setting is not heavy handed, but rather kinder, more humanistic, and while there are the occasional eruptions of anguish, as anyone who has lost a loved one can relate to, the work is ultimately one of profound solace as we reconcile grief into acceptance, and finally peace. This is the work that I hope can heal the ruptures of loss in ourselves as we remember those close to us that we have lost.
Finally, I offer you words from the final chorale of Shofar, penned by Catherine Madsen, who lovingly worked hand-in-hand with Bob to create the brilliant libretto for Shofar:
"Each craved a kinder lover we only have each other
we make the world together there is no other labor"
These are the values that Bob, Don, and Sandy embodied in their work and lives, and the gifts they left us are a legacy to which all of us can aspire. In their remembrance and honor, let us embrace and perpetuate these principles in our own lives.
—David Hodgkins Artistic Director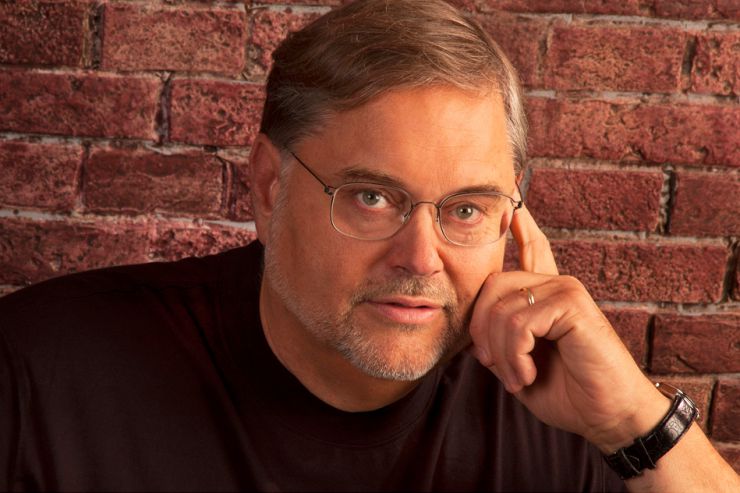 photo: © Susan Wilson
Coro Allegro presents Shofar: In Memoriam, Sunday, March 8, 2020 at 3pm at Sanders Theatre, with guest artists New England Classical Singers, Teresa Wakim, soprano, Jonas Budris, tenor, Aaron Engebreth and David Kravitz, baritones, and Ron Williams, baritone in Five Mystical Songs.